A Full DJ setup in your pocket
TapDJ puts a full DJ setup into your pocket.
Scratch and Mix your iPod music
Mixing your iPod library is just one click away.
See your album art spin around the records as you scratch and mix your own tunes.
Record your mixes
Never lose a great mix. Keep all your scratching masterpieces on your phone, or use iTunes file transfer to save them to your desktop.
Share what you're mixing with friends
Think you've found the next great mash-up mix? Share it with friends over twitter, facebook, tumblr, or e-mail and SMS. Each time you share a mix, it makes your own unique url at tap.dj that can be shared with friends and rated.
Music Discovery
See what everyone else is mixing, and vote on your favorite tracks and mixes.
Integrated iTunes preview makes it fun to find new tracks and instantly grab them from iTunes. You'll be mixing new tracks in no time.
Equalizer and FX Built-in
Adjust highs, lows, and mids with the 3-band EQ.
Add reverb and other effects to get your sound just right.
Upload your own tracks and samples over WiFi or USB
TapDJ takes advantage of iOS4 for iTunes file transfer, allowing you to upload your favorite tracks and samples at very high transfer speed.
If wires aren't your thing, use WiFi upload too!
Integrated Sampler
Load up your favorite samples, hits, and stabs on the 9 button sampler. Each sampler button can load one of our pre-loaded samples, your uploaded samples, or a voice recording.
You can set each button to loop, perfect for drum loops while scratching.
Persistent Cue Points for Every track
Get three loopable in and out cue points for each track. Each cue point is saved uniquely based on the track, so you'll never lose them.
Cue points can be used to store your favorite point in a track, or to create a loopable drum beat from a section of a song or sample.
Integrated Voice Recording
Record your voice, or instrumentals from the mic, and instantly scratch and mix them up!
All recordings are saved for future use.
GryoScratch™ Technology
The future of scratching is here, and it's a twist.
Our most unique (and fun) feature lets you twist your phone and mimic scratching on a real turntable! You just have to try it.
Amazingly, place your phone on a real turntable and you can scratch and listen to your music using the rotation of the turntable!
Supports a wide range of devices
We've worked hard to support the 3G, 3GS, and 4G, and iPod touch devices.

Share Mixes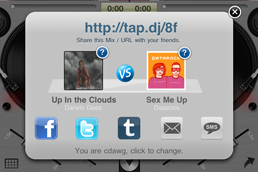 Effects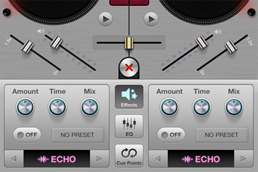 Sampler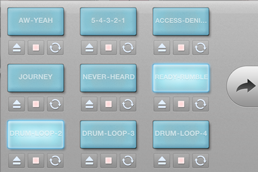 iPod Access